Vaddio A/V Bridge provides the ability to integrate soft codecs like Lync and Skype into traditional A/V designs. http://www.vaddio.com/product/av-bridge The A/V Bridge supports USB or IP streaming for Capture, Content Delivery or PC Conferencing applications and works with most A/V equipment.
Resources:
In the box: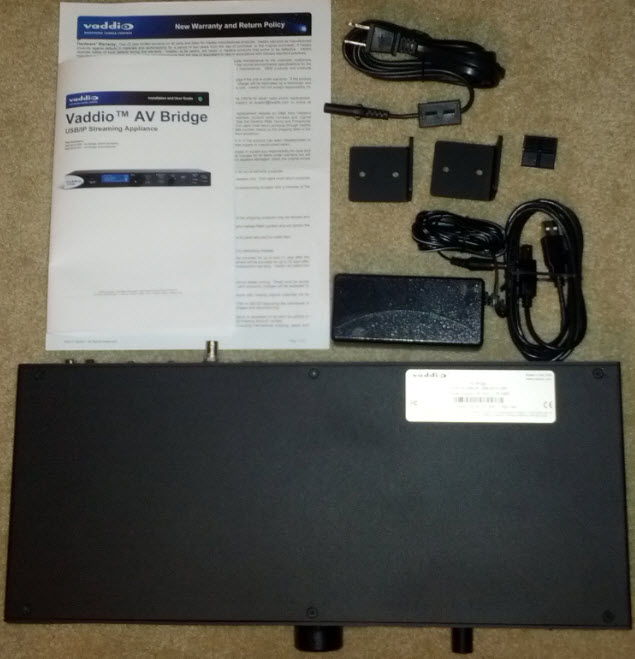 AV Bridge
Pair of Rack Mounts
18 VDC Power supply with AC power cord for North America
USB 2.0 Cable
Four rubber feet
Guide and Manual
Device:


Video Input Detect indicator
LCD Display
Menu Navigation (Rotary Knob, Select and Cancel buttons)
Mute Controls (Video and Audio Mute buttons)
Audio Level Control (Rotary Knob)
Power/Reset (button)
Input LED indicators (Current Video and Audio input selection and signal characteristics)

Power (5.5mm 0D x 2.5mm barrel)

DIP Switches (Factory Reset)

RS-232 Port (RJ-45)
USB Interface (USB 2.0 Type-B)

Network Interface (10/100 RJ-45)
Video Inputs (HDMI, BNC, HD DB-15)
Audio Input (XLR [Balanced], RCA [Unbalanced])
Setup:
Connect AV Bridge to Network and Power Supply
Find IP: Bridge uses DHCP by default and IP is visible on LCD Display
Use a web browser to the access Bridge Management Tool (Default user: admin, Default password: password)
Current version: 1.2.0
Update firmware: 2.0.1

Download AV Bridge Update (ZIP): http://www.vaddio.com/images/document-library/av-bridge-web-update-complete-2.0.1.zip
Apply Update: System tab in Management Tool, Browse to downloaded update (ZIP), click "Begin Firmware Update and click "Continue" on warnings"

Connect AV Bridge to PC:

Connect Video Content Source(s) Note: Audio is not received over HDMI
Connect Audio Content Source(s)
Connect PC (USB Cable)
Auto install of USB drivers from Windows Update
Lync:
AV-Bridge is now listed as a Microphone device within the Lync Audio Device options [
UVC Camera is now listed as a Video device within the Lync Video Device options
A Video call functions in the same way as a normal web camera
If Video signal input is lost to the Bridge or Video Mute button is pressed, the SMPTE Color bars are shown.
Skype: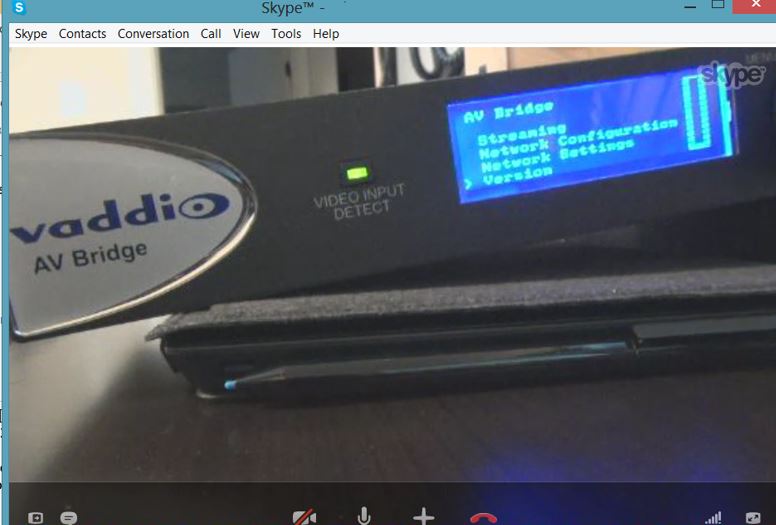 Web Management Tool:
A/V Configuration
Streaming (Firmware 1.2 does not have IP Streaming Settings)

v1.2
v2.0

Labels
Networking
Security
Diagnostics
Compatibility:
Software Clients

Lab Tested

Cisco Jabber
WebEx
Skype
Adobe Connect
Microsoft Lync
GotoMeeting
Vidyo Desktop
Polycom M100
Lifesize ClearSea
Google Plus
Panopto

Field Tested

IOCOM
Radvision Scopia
Apple FaceTime
Blackboard
Tegrity
Echo 360
USTREAM
Livestream
PresenterPro
Microsoft Expressions Encoder 3
VCON
AVAYA One

Media players (IP Streaming [HLS and RTSP]):

QuickTime
VLC Media Player
Real Player

Operating Systems

Windows 7
Windows XP SP3
MAC OS
Linux

Web Browsers

Internet Explorer 8+
Safari Rev 4 and 5
Chrome
Firefox

Supported UVC Resolutions

Resolution, Frame Rate, Aspect Ratio
1280 x 720, 15/30, 16:9
960 x 544, 15/30, 16:9
704 x 576, 15/30, 4:3
640 x 480, 15/30, 4:3
640 x 360, 15/30, 16:9
424 x 240, 15/30, 4:3
352 x 240, 15/30, 4:3
320 x 240, 15/30, 4:3
352 x 240, 15/30, 4:3
320 x 180, 15/30, 16:9

RGBHV/DVI Supported Resolutions

1360 x 768 @ 60Hz - WXGA
1280 x 800 @ 60Hz - WXGA
1280 x 768 @ 60Hz - WXGA
1280 x 720 @ 60Hz - WXGA
1024 x 768 @ 60Hz - XGA

HDMI EDID Forwarding

1080p/60/59.94/50/frames/s
720p/60/59.94/50Hz frames/s
1440 x 900@60Hz
1360x768 @ 60Hz
1280x800 @ 60 Hz
Summary:
With a MSRP of ~$2000 this inexpensive A/V Bridge allows the ability to sweat Legacy Audio & Video Conferencing equipment assets and tie into PC based software using standard UVC/UAC USB standards.