Who would have thought a simple mouse hover on a Skype Meeting invite would consume so many hours…
So what did I see?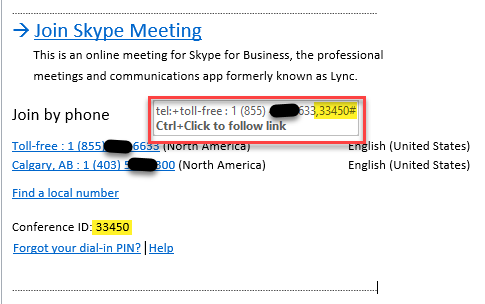 If you look closely at the Join by phone conference number links in the Skype Meeting, you will now notice that ,ConferenceID# has been added to the end of the phone number URLs.
What's even better? If you click the link and click call (even though you can't see these additional DTMF), the Skype for Business client will not only call the dial-in access number but also input the conference ID. This will join you right into the specific meeting.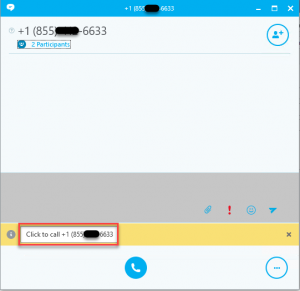 To break down the DTMF, we have a "," which is a Soft Pause to wait for the Conferencing Attendant to pickup, next we have the conference ID followed by a "#". Although if using the client why wouldn't you just join as a Skype Meeting vs. PSTN only?
This would be great when joining from Smart Phones, but for most deployments I see it's more important to add a city/location label to each Dial-in access number. This adds additional digits to these call URLs and the click to call won't complete. See the "Ari" method on Ken Lasko's Getting Creative with Lync Dial-in Conferencing Phone Numbers article. An alternative would be to use Modality's CustomInvite to add Dial-in access number labels outside of the "Display Number" hacks, allowing the call links to be successful.
I also noticed the "Find a local number" link in the meeting invite is appending /?id=ConferenceID to the end of the dialin url. I wonder if these client changes will be leveraged for the one touch VTC joins when Polycom's Video Interoperability Service is released ( https://youtu.be/S-h_ZpBaUjA)?


After testing a few Skype for Business environments, I have confirmed this was a client side update and not server side. Next was to determine at what point this feature was added by running through a handful of Office365 ProPlus builds and dealing with the silly Office Deployment Tool (ODT) bug: https://blogs.technet.microsoft.com/odsupport/2016/07/12/installupdate-errors-using-the-latest-version-of-the-office-deployment-tool-16-0-7118-5775.
Conference ID DTMF was added to the Office 365 Current Channel in 16.0.7167.2040 (August 16,2016) and First Release for Deffered Channel 16.0.7369.2038 (October 11, 2016) and won't be seen in the Deferred Channel until February 2017. https://technet.microsoft.com/en-us/library/mt592918.aspx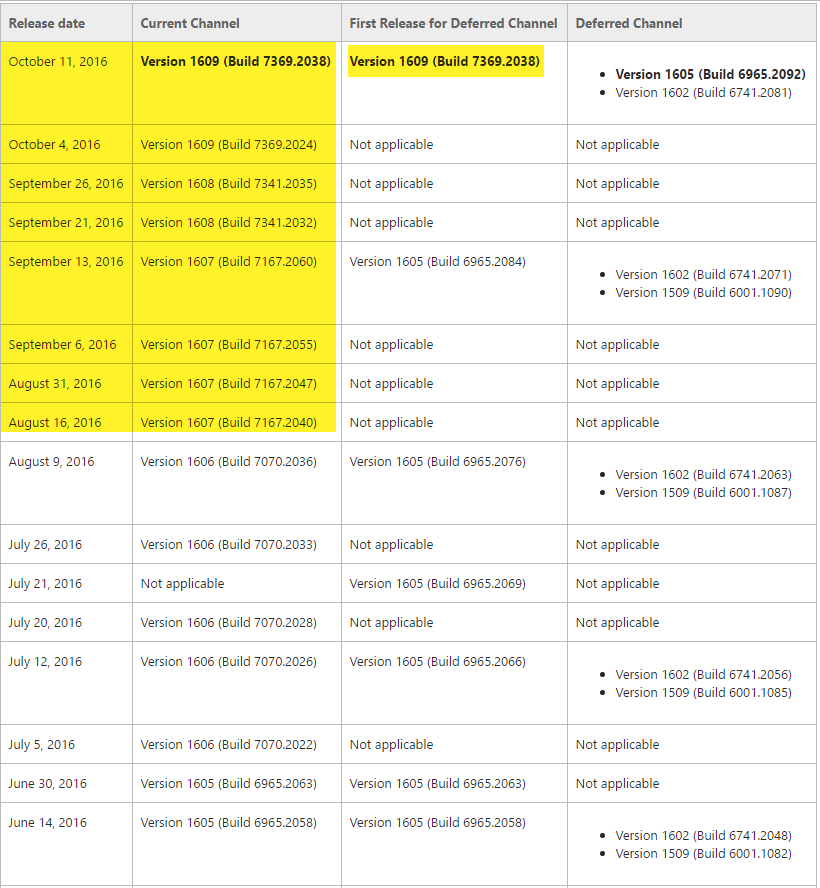 What's interesting is DTMF support in contact numbers is ranked #4 on the ideascale Lync/Skype4B Improvement Suggestions site: http://lync.ideascale.com/a/dtd/ability-to-save-a-contact-s-number-along-with-pauses-and-DTMF/372928-16285. Unfortunately I was not able to get the client to accept DTMF unless the call was initiated from clicking a "Tel:" url. Having some fun I created an Outlook Contact item for BestBuy Canada. I was able to pass DTMF to select English by crafting a "Tel:" url and placing it either in the Notes or Web page address fields. I didn't have much luck navigating through multi-level menus, so your mileage may vary.