The New Voicemail User Settings Features for Skype for Business Online Preview has finished and stopped on-boarding customers at the end of August 2017. In testing and confirmation from multiple clients not part of this preview program, the feature seems to have gone live in the public over the last few days.
The Preview blog announcement can be found at: https://techcommunity.microsoft.com/t5/Skype-for-Business-Blog/Skype-for-Business-New-Voicemail-User-Settings-Features-in/ba-p/90213#.WXhY2YhDizU.twitter
As a Cloud PBX user in Skype for Business Online running a current Click-to-Run (C2R) build of the full Skype for Business 2016 client, the Dial pad tab will expose two voicemail options.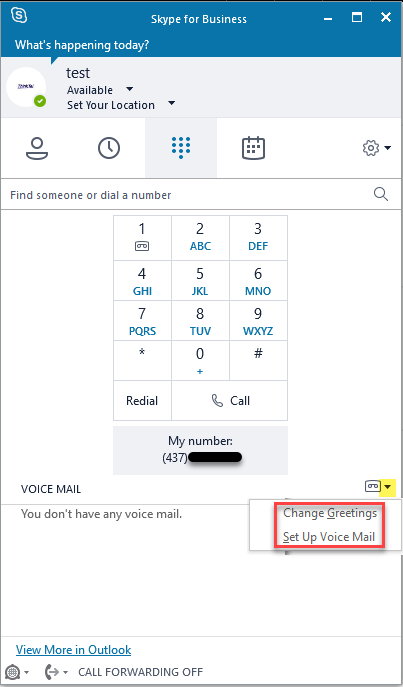 Change Greetings: This option will make a VoIP call into the Azure Voicemail Service, allowing you to Play/Record your personal greeting or a greeting for when you are away. Must be my OCD kicking in, under personal greeting you will hear "You have not recorded a personal greeting…." and under the greeting for when you are away, you will hear "You haven't recorded a greeting for when you are on vacation, out of the office or away…".
Set Up Voice Mail: This option will open your default browser to: https://aka.ms/vmsettings, which redirects the user to a sign in page if not authenticated, before landing at: https://adminca1.online.lync.com/lscp/usp/voicemail. The final URL could be different depending on where your Skype for Business Online tenant is hosted.
The User Settings Portal for Voicemail (OCD knocking again, Voicemail vs. Voice Mail):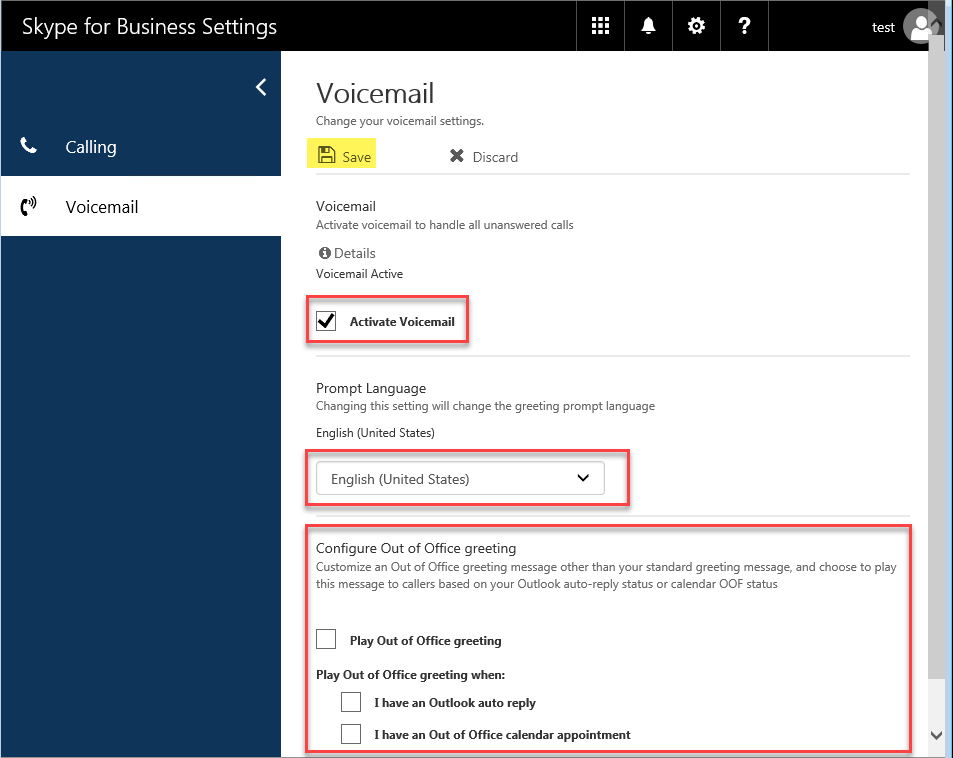 Voicemail: Activate or Disable Voicemail functionality. Keep in mind if the Skype for Business Client isn't configured for Forwarding and a call is sent to the Azure Voicemail service, the caller will get a fast busy signal when Voicemail is disabled.

Prompt Language: Select from a list of about 26 languages to be used for the automated Voicemail prompts. I might have had too much fun comparing the five English options…


Out of Office Greeting: Prior to September 2017 and the Preview, users could set an away greeting but could never activate it. Now we have a few new options:

Play Out of Office greeting: This will turn on the away message all the time or not. With this feature enabled, the below options will grey out.
Play Out of Office Greeting When: The following options can be enabled individually or together.

I have an Outlook auto reply
I have an Out of Office calendar appointment
After making changes, click the "Save" button at the top of the page. Once the settings are applied, you will see: "Your changes have been saved successfully." message with a green check. This message only shows for a few seconds. In my testing, the changes are immediately in effect when making new calls into the Azure Voicemail Service. I did see a red x and an error on my first setting change/save attempt but clicking "Save" a second time was successful.